Transforming a Standard Party Tent into the Ultimate Winter Tent
A company reaches out to you for a booking in the middle of December. They're doing a team-building exercise, stretched out over the course of three days. They have twenty guests participating in outdoor events, and they need your very best winter tent to get the job done. They need space for a few tables with chairs, plus some equipment. They need their employees to warm up while they're inside the tent, too.
You don't want to set up a party tent in freezing conditions, but thankfully, the weather prediction is reasonably mild: low to mid 30s in the mornings and evenings, upper 30s and lower 40s around midday, with some light snow flurries. The wind looks like it shouldn't be an issue.
Vinyl party tents can be damaged by cold temperatures. We don't recommend setting them up in severely cold conditions or when the thermometer reads below freezing. Even the heavy-duty commercial grade vinyl we use at Tent and Table will be damaged by extreme cold. As a broad, general rule, we recommend never setting up your party tent when it's going to be under 40 degrees Fahrenheit, or about 4 to 5 degrees Celsius.
With that in mind, we're aware that some of you will still try and set up a party tent in winter. Some clients, like our hypothetical one here, are potentially going to offer you enough money to make the setup worth the risk. Because we can't blame you for wanting to keep your business afloat, we're here to offer some valuable advice on your party tent investment.
You want to create the best experience possible for this mid-December client. Here's how to make a party tent work for you (and them) during the winter.
Choosing the Best Outdoor Winter Party Tent
In order to choose the best winter tent for the job, we need to identify the biggest challenges the party tent will face. These likely include:
Cold Temperatures:

The materials of our winter tent should be able to hold up to cold and mildly freezing temperatures, at least intermittently.

Moderate Wind:

Our tent needs to take on occasional, moderate winds and stay standing.

Precipitation:

Snow and freezing rain shouldn't be an issue so long as we keep the tent top as clear as possible, as our tents are 100% waterproof.
Now, we can come up with a set of optimal features. We'll need a sturdy, stable, reliable party tent with strong tent anchoring. We'll need tent sidewalls to keep wind and snow out. We'll want to cover the ground beneath the tent with tarps, too. And we'll obviously need to heat our winter tent, so at least one good party tent heater and its accessories will be required.
Frame Tents: The Party Tents of Choice for Winter Activities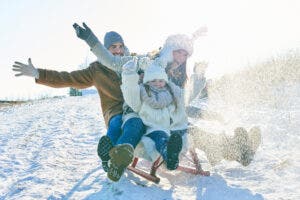 First things first, we want a high-quality party tent with interior space for those twenty guests. When it comes to stability and ruggedness, you won't do much better than a frame tent.
With their tough, rigid frames and a wide variety of anchoring methods, frame tents are the tents of choice in reasonably windy conditions.
For our winter tent, we're going with a 20' x 30' West Coast Frame Tent with a red and white top. This isn't a wedding tent, and given the chance for snow, plain white seems like a bad choice. The red stripes will make the tent stand out even in reduced visibility.
We'll need tent sidewalls for our frame tent, too. We'll want guests to be able to watch the activities outside or take in the gorgeous scenery while sipping cocoa and socializing. So, we're going to use a 20' x 40' premium blockout sidewall kit, which includes both solid and cathedral tent sidewalls. We're using tent sidewalls with 8' sides, using the extra slack as an additional insulating barrier along the floor.
Getting Our New Tent Nice and Cozy with Party Tent Heaters
To heat our winter tent, we're going with one of the best tent heaters on the market: the venerable L.B. White Premier 170. It's extremely fuel-efficient and can run on both propane and natural gas. It's quiet, despite having an extraordinary hot air output volume. Its remote start thermostat lets you control the unit from a distance, too.
Despite the Premier 170 working great both indoors and outdoors, we'll maximize the functional space inside the tent and keep the party tent heater outside, feeding the heat into the winter tent with an end diffuser. This allows us to pump warmth into the tent from the heater, with the diffuser tucking in beneath a sidewall.
The Party Tent Miscellany: Accessories We'll Need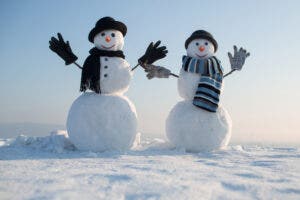 The frame tent, tent sidewalls, party tent heater, and heater diffuser come together to form the perfect winter tent … almost. We're still missing a few small (but important) things, so let's get right to it.
If we opt to use tent stakes for anchoring, we'll be faced with driving them into the frozen ground. If you've ever driven tent stakes before, you know how miserable and time-consuming it can be. So, we're going to pick up a Thor Tent Stake Driver and ram those stakes into the ground with ease.
Last but not least, we're going to want to bolster the structural integrity of our winter tent with additional strength, so let's set up some ratchet straps as well. Ratchet straps are stronger than traditional ropes, and they're impressively easy to use.
How Will Our Tent and Table Winter Tent Hold Up?
We've got a premium frame tent with high-quality sidewalls. We've got what is arguably the best tent heater in the business pumping warmth into our winter tent. We've driven heavy-duty tent stakes into the ground, securing the tent against the elements with ratchet straps. That's one heck of a winter tent, isn't it?
It must be said that, as impressive as this winter tent may be, it's not without shortcomings. Snowy or muddy boots will be somewhat slippery on any tarp, even the high-grade ones in this example. There's mud and muck getting tracked into the tent from outside to contend with as well. And we wouldn't recommend people sleeping overnight in this tent without adequate cold-weather gear - highly rated sleeping bags, cots to stay off the ground, etc. Also, word to the wise, tent heaters should NEVER be left running overnight or while people are sleeping.
All of that said, this tent should be capable of withstanding moderate winter conditions. No party tent will hold up against a Nor'easter or bomb cyclone winds, which can match hurricanes in terms of wind speeds. But as long as you try to keep snow and ice off the tent top and regularly check your anchoring, this ideal winter tent will impress customers day after day during lengthy outdoor winter events.
Check out the impressive winter tents for sale at Tent and Table to find the perfect combination of party tent, tent sidewalls, portable tent heater, tarps, and more to suit your next outdoor winter booking.