Sidewalls can be an important addition to tent rentals during any time of year. During the cooler months, sidewalls become a necessity. In the season of Fall, you will find businesses and patrons using party tents with sidewalls at many festive gatherings.
Underneath Tents in the Fall
The season of fall that spans over three months brings cold, frosty weather each day. During fall, people adventure outside of their homes to visit local farmers' markets, arts & crafts festivals, fall carnivals, and attend festive gatherings. If you have ever been to a farmers'/produce market or a fall arts & crafts festival, you may have walked by vendors selling products underneath temporary pop-up tent structures. What appealed and captured your attention was not the variety of products on sale but the white draped pop-up tent that the merchant was underneath.
Businesses and vendors purchase and use these different pop-up party and west coast frame tents to protect themselves and their products from harsh weather elements and promote brand awareness. According to a study by Michael Peterson of Signs.com, "79.6% of people who attend events are more likely to engage with a vendor if the tent looks sturdy and well maintained." High-quality pop-up tents like the 10' x 10' 40mm Speedy Pop-Up tent can withstand winds, heavy rain, and are coated in a PVC material inside and out, guaranteeing a 100% waterproof structure. 
Bobbing for Speedy Pop-Up Tents
Fall carnivals gather people from far and wide to celebrate the festive autumn season. At most fall festival events, vendors and event staff will use a variety of party and canopy tent structures for different purposes. One pop-up tent that is a popular purchase amongst vendors and carnival staff is the 10' x 10' 50mm Speedy Pop-Up tent with Sidewalls in Red and White stripes. These pop-up tents are iconic structures to see at carnivals. Carnival vendors and event staff use Speedy Pop-Up tents with sidewalls to create game booths like balloon pop and ring toss games, as well as for food stands. Their bright, vibrant colors are eye-catching to patrons passing by, hoping to be lured by the aroma of the food or flashy carnival game inside.
What about the shelter spaces and entertainment venues that are at these fall carnivals? Most of these spaces are temporary structures like white premium canopy pole tents. White canopy pole tents are popular products because they are easy to assemble, customizable, and priced at an affordable cost.
Were Your Sidewalls Up this Fall? Don't Tear Them Down Yet!
Some people believe the fall season ends the day after Halloween. Many party tent owners will disassemble and store their canopy pole tents or west coast frame tents after Halloween because they anticipate the arrival of winter. Even if the cold weather arrives early, that does not mean you can't extend the use of your canopy tent.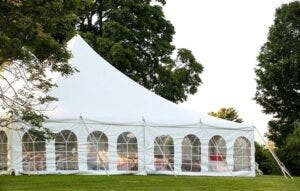 In recent years, there has been an increase in consumers buying canopy tents and sidewalls and using those products well into chilly weather. Tent sidewalls (also known as tent side panels) are separate add-on walls that can attach to the frame of your tent. Like the walls inside your home, tent sidewalls can include solid panels or have window and door features. Tent sidewalls are adjusted and sized to fit any style of party or canopy tent. 
Many benefits come with adding sidewalls to your tent. One of the benefits of a tent sidewall is that they shield from wind and rain. No one enjoys standing outside in the pouring rain, especially if it happens randomly on what is supposed to be a sunny day. Frame tents with sidewalls make great shelters for people to wait until the rain passes. Tents that have sidewalls also capture heat and warmth.
Benefits:
Shield from rain, wind, and other elements

Capture warmth

Solid sides shield light and offer privacy

Window sidewalls let light and scenic views in
The Importance of a Party Tent
During natural disasters, we have seen photos and videos of makeshift hospitals and shelter tents. The makeshift hospitals and shelter tents are built using West Coast frame party tents and white Speedy Pop-Up tents with sidewalls. These tents act as temporary operating rooms and shelters for patients. A white 10' x 10' 40mm Speedy Pop-up party tent with Sidewalls can provide people privacy, security, and comfortability.
Comfy, Cozy, Canopy Tents
Tent sidewalls can be used in any season but are used predominantly more in the fall. During the colder months, businesses like restaurants and breweries have embraced the idea of seating their patrons outside of the establishments underneath enclosed canopy pole tents and high peak frame tents. These canopy poles and high peak frame tents with sidewalls act as dining pods for patrons. On social media, you may have seen photos of couples on candlelight dinner dates underneath west coast frame party tents with window sidewalls, looking out onto a cold brisk night. You might think these couples are freezing underneath the tents, but they are kept warm because of the secure sidewalls and warm heaters.
Outdoor Heaters have Us Feeling Hot, Hot, Hot!
Patio heaters and dual fuel outdoor tent heaters are outdoor appliances you will often see inside party tents because they heat structures very quickly and keep patrons warm. The Four Seasons Courtyard Outdoor Propane Patio Heater is a popular product amongst restaurant and brewery owners' because of its sleek steel body frame and ability to heat areas up to 210 square feet.
So before you store that tent away, Make sure you keep your tent up and purchase some sidewalls and heaters today!