Folding Tables and Chairs: Your Equipment Rental Workhorses
If you're one of the people who follow this blog closely, you know we love to heap praise on our folding tables and chairs. They're the unsung workhorses of the equipment rental world, deserving of far more love and admiration than our industry ever affords them.
Your folding tables and chairs are more than likely your biggest moneymakers. You can book them at any type of event you can dream up. Unless it's a convention for people with a phobia of sitting down, your customers will usually want to rent your folding tables and party chairs.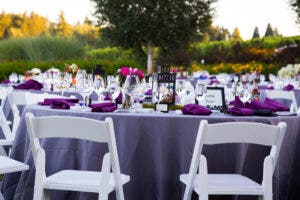 These venerable titans of the equipment rental world deserve our admiration. But they also deserve the same degree of tender loving care we offer our party tents and commercial inflatables. They deserve to be cleaned, maintained, and repaired. Why waste money throwing out perfectly good folding tables and chairs when repairs are so cheap and maintenance is so easy?
Let's take a little time to learn how to properly and safely clean our folding tables and folding chairs. And if they should wear down or break down, let's learn where to find replacement parts for tables and parts for chairs and how to get those installed. Because party tables and chairs are amongst the easiest pieces of rental equipment to maintain. And with a little of that aforementioned TLC, they can last just as long as any other equipment you own … if not longer.
How to Clean Folding Tables and Chairs
Let's begin with the single most important thing you'll do regularly to keep your folding tables and chairs up to snuff: cleaning them. Regularly cleaning your folding tables and chairs keeps your customers and their guests healthy. It keeps your equipment looking top notch. And it helps you spot maintenance issues and correct them before they become bigger and worse issues.
First, we're going to need to assemble some supplies for cleaning our folding tables and chairs.
From here, cleaning should be pretty self-explanatory. Your standard issue bucket of warm water and dish soap will do most of the work and can clean any surface, albeit wood, metal, plastic, or resin. Simply scrub the surface with soapy water, then wipe it down with a towel drenched in clean water to rinse. Alternatively you can use a garden hose and spray your folding furniture to rinse.
For anything the soap and water can't clean, use Method Cleaner and/or the Magic Eraser on wood, plastic, or resin. Use either of those on metal, or use Scrubbing Bubbles. And if you do need to use Method or Scrubbing Bubbles, be sure to rinse it off thoroughly.
Once you've rinsed off your folding tables and chairs, simply use a towel to dry them off. Be sure to let them air dry for a while before covering them, too. Mold and mildew can and will grow on covered furniture that's wet or damp. Make sure it's dry before you store it!
General Cleaning Hints and Tips
Here's some more basic information you should take into consideration when cleaning folding tables and chairs:
Be sure to rinse thoroughly. You don't want soapy residue left on your furniture

We cannot stress this enough:

Furniture MUST be DRY before you cover and/or store it!

Failure to do so will result in mold, mildew, and rust!

Avoid cleaners that use bleach and ammonia. They can fade colors and corrode metal, plastic, resin, and wood
Also avoid petroleum-based cleaners, as these tend to attract dirt and dust more quickly than other cleaners
Clean stains as quickly as possible. The longer a stain sits on your furniture, the harder it will be to clean it up
Never use abrasive tools

(hard wire brushes, scouring pads/"Brillo pads", etc.)

unless you're removing rust

. They'll often do a lot more harm than good and are unnecessary

When cleaning resin chairs, remove the seat padding to make cleaning considerably easier. You can clean those pads with the same soapy water you're using on everything else. For serious stains, use the Method cleaner or a Magic Eraser.
How to Remove Rust from Folding Tables and Folding Chairs
Figuring out how to remove rust is undeniably important in the realm of party and event equipment rentals. The Internet is overflowing with suggestions for how to remove rust, too. Everything from using cans of soft drinks to rubbing rust with potatoes is suggested online.
Our suggestions probably aren't as exciting as some of the others you'll find on the web, but they'll generally work regardless. We recommend using wire brushes or scouring pads and some elbow grease to get rid of the flaky, crusty bits of rust. Next, mix some baking soda and water and pour it onto the affected area. Let that sit for about ten to fifteen minutes, then scrub the area firmly. Use a clean, dry rag to wipe the area down, and voila! No more rust.
If the rust is deeper or more persistent, you may want to invest in sanding tools or heavier chemicals. Should you decide to go this route, please consult with manufacturers for directions and safety recommendations.
Whatever route you choose to take, always remember that the affected area MUST be completely dried immediately after removing rust. You don't want to negate all of your hard work with flash rust, which can pop up very quickly after minimal exposure to moisture. Keep the affected area dry whenever possible during the rust removal process.
Some professionals recommend coating metal components in automotive wax to prevent rusting. We haven't tried this yet, so we can't say we officially endorse this practice. But if you have some car wax and a good test chair sitting around and you feel up to some experimentation, please let us know how it turned out!
Keeping Your Party Tables and Party Chairs In Good Order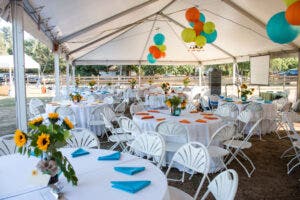 Wear and tear is something you should always try and keep an eye out for. If any of your equipment is worn, wobbly, or damaged, you'll want to catch it and repair it early on. It's good to watch out for these issues during the cleaning process, but you should also regularly check each unit individually, especially before and after party or event gigs.
Here are some general notes on repairing your folding tables and folding chairs:
Folding Tables and Chairs can Last Indefinitely with Some TLC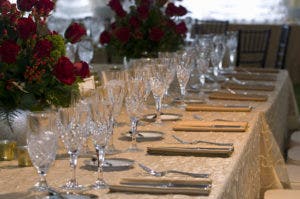 Your folding tables and chairs may not be the centerpieces of your equipment rental inventory. They're not featured prominently on your website, and they probably aren't the first thing most of your customers ask about when they call you. But your folding tables and folding chairs are solid, dependable earners. And for many of you reading this, they're regularly a primary income source for your rental company as a whole.
Taking care of folding tables and chairs is relatively simple. And depending on how many your company has, it might even be less time consuming than cleaning a party tent or cleaning a bounce house. Repairing these items is quite simple and straightforward too, generally speaking that is.
Our commercial grade, high quality folding tables and strong, durable folding chairs aren't going to need as much maintenance as those of some of our competitors. But taking the time to treat your rental equipment well with proper cleaning and maintenance will help prolong their use even further. 
We hope this guide helps you clean and maintain your folding tables and chairs. And as always, please comment below or give our experts a call at 1-716-832-8368 if you have any questions!