When planning your outdoor wedding, it's important to ensure that every detail is perfect. This includes the choice of tent that will provide shade and potentially serve as the ceremony space. While a standard tent will suffice, there are ways to enhance its appearance and create your dream wedding venue. Consider incorporating window sidewalls into your tent design for a unique and enchanting atmosphere. These window tent sidewalls allow natural light to filter in, adding a beautiful touch to your special day. Let's work together to transform your tent into a magical setting for your outdoor tent wedding!
Makes for a More Comfortable Tent
First of all, let's take a look at the more practical use of not just windowed sidewalls, but sidewalls as a whole: comfort. The greatest obstacle you'll run into when planning an outdoor wedding is dealing with the elements. With a basic canopy tent, unexpected weather events like rain will put a damper on the event, but by upgrading your tent with sidewalls, you can carry on your ceremony as normal from the comfort of your tent. With the general benefits of sidewalls out of the way, though, let's talk about the benefits of windowed sidewalls in particular.
Brings in Natural Light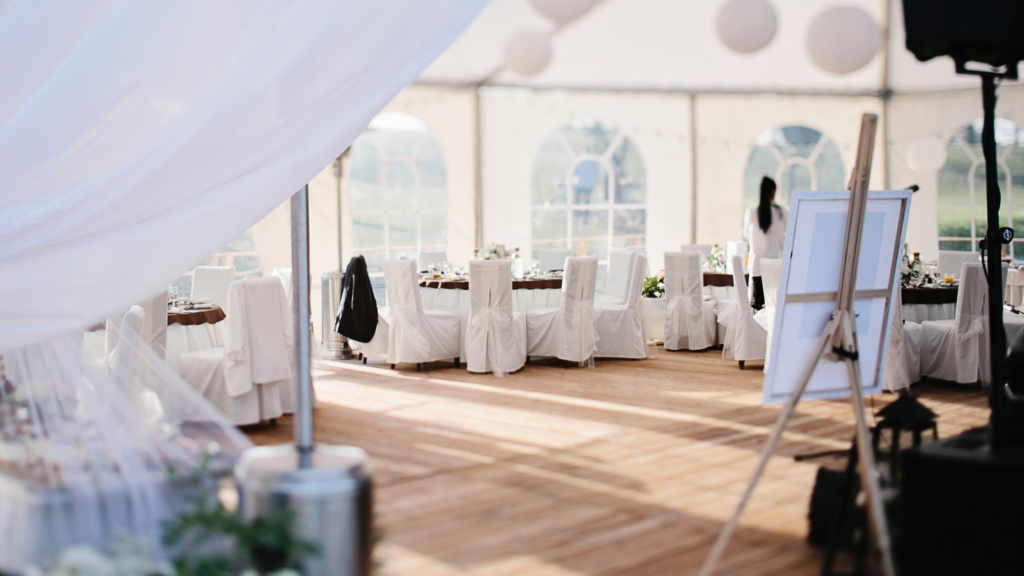 Without any light source, the inside of your tent will be dim and gloomy, not at all the sort of environment you want for a wedding. While electric lights are also an option, using our cathedral-style canopy tent sidewalls brings natural light into your wedding tent, creating a much warmer, open feel that will create the perfect, almost dreamy feel that's perfect for any wedding. This sense of warmth provided by the natural light not only brings up the mood of the occasion, but makes for great photos as well.
Creates a Traditional Wedding Feel
While people planning an outdoor wedding often prefer to go for a more unconventional event, there are things that a more traditional wedding brings to the table as well, most notably, the aesthetic of the venue itself. If most people had to name one memorable feature of a traditional wedding venue, it'd be the cathedral windows, and how the light hit the venue.
With windowed sidewalls, however, an outdoor wedding and the iconic stream of light from cathedral windows don't have to be mutually exclusive. Having these windows makes for an absolutely magical ceremony that you'll remember for decades to come.
Uses the Natural Scenery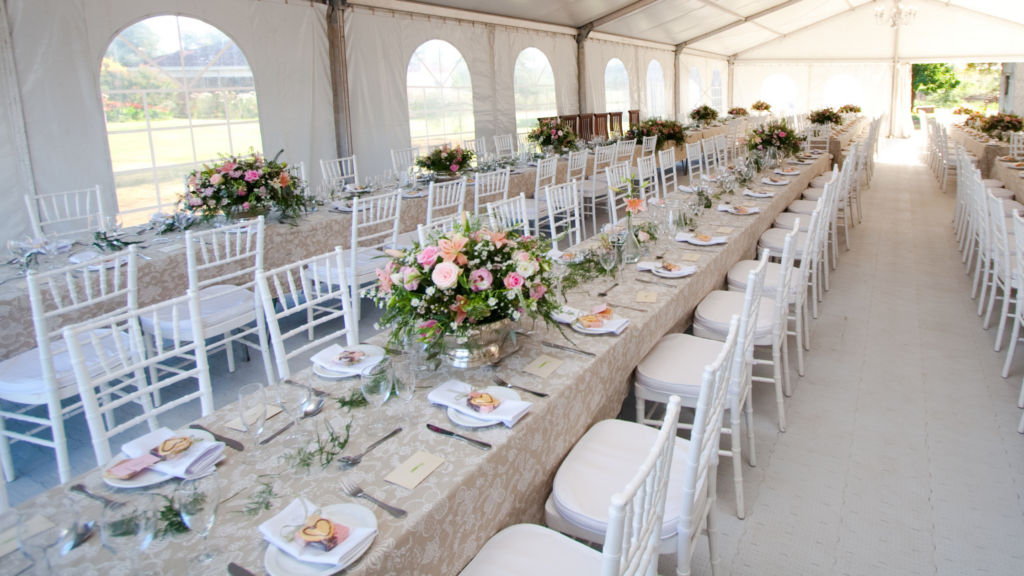 Every outdoor wedding needs a tent, whether it's for food and drinks, a place to get some shade, or the ceremony itself. However, an outdoor venue's greatest strength is ultimately its scenery, something that's lost with a completely enclosed tent. With windowed sidewalls, however, the gorgeous scenery can be preserved within the tent, allowing you to enjoy the dream wedding environment both indoors and outdoors.
Looking for more supplies to plan your outdoor dream wedding? Whether you need furniture, tents, or even entertainment, feel free to visit our shop at Tent and Table! Once you've picked up everything you need, don't forget to take a look at our blog for more inspiration!