What Does Your Urgent Care Walk-In Clinic Need for Drive Thru COVID Testing?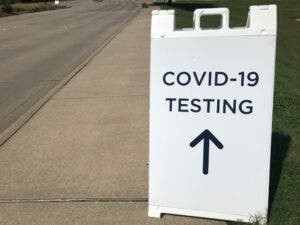 Unfortunately, COVID-19 is yet again on the rise. The "second wave" experts have been predicting for months is dominating news headlines. That means urgent care centers and walk-in clinics are likely set to see a big surge in requests for drive thru COVID testing. But figuring out which medical tent is best for this influx of patients can be confusing.
Prior to the pandemic, medical tents weren't something most hospital, urgent care, or walk-in clinic administrators gave much thought to. Drive thru testing wasn't necessary, and apart from fundraisers, party tents weren't something medical centers needed to invest in. Some hospitals may have kept some triage tents on standby in case of an emergency, but that was about it.
Today, drive thru COVID testing plays a starring role in America's new normal. Many of us have gone to a drive thru testing site for a test through our car windows, and with this most recent major spike, countless more Americans will do the same.
Most administrators have limited experience, if any, with party tents or medical tents. They come in all sorts of shapes, sizes, and styles. There are a seemingly endless list of parts and add-ons. Where do you even begin? What exactly does your urgent care center or walk-in clinic actually need from a medical tent? And what features are best suited to drive thru COVID testing?
Let's Start with the Basics
Here's a poorly-kept secret: so far as drive thru COVID testing goes, most administrators aren't buying specialized medical tents. They're actually using party tents, packaged as medical tent kits. And some administrators are actually throwing away a great deal of money renting these tents, rather than simply buying them.
You've all seen party tents before. They're popular at weddings, festivals, corporate expos, birthday parties, and more. Commercial party tents are extremely versatile, durable, and easy to maintain, making them perfect for quick and easy adaptation as medical tents.
There isn't much separating party tents and medical tents. During the pandemic, party tents have been used as triage tents for outdoor patient care, drive thru COVID testing tents, and more. Restaurants and retailers have used party tents for outdoor dining and curbside pickups. Schools and universities have used them as outdoor classrooms as well.
If you've visited a drive thru COVID testing site, you likely drove your car into a party tent with two tent sidewalls closing off the outsides. Some testing sites combine two or three party tents, coupling each with traffic cones to partition them into traffic lanes.
Renting these tents is ideal if you're only doing testing for a weekend. But a few days in, it becomes significantly cost prohibitive. Especially given the fact you can buy these tents and use them as often as you feel like having staff set them up. And high quality commercial grade party tents are impeccably versatile and will remain useful at all sorts of events long after the age of COVID has passed us by.
What Tents Styles Work Best as Medical Testing Tents?
For a drive thru COVID testing tent, you'll want to choose a party tent that's easy to set up and tear down, requiring minimal staff training. You'll want something stable and reliable, too. And you'll need to be able to anchor your new medical tent on pavement as well, with as small an exterior footprint as possible.
This is where some administrators start feeling a little overwhelmed. Browsing our website, you'll find pop up tents, pole tents, frame tents, high peak tents, and star tents … and unless you're a professional event and party rental operator, chances are you don't know the differences between them.
So what party tent style works best as a medical tent? In the end, frame tents are the very best option for drive thru COVID testing sites. They're spacious, versatile, and affordable. And that's just the icing on their overall value.
Frame tents are incredibly easy to set up; with a little practice, one person equipped with a tent jack can set one up fairly quickly, without needing to drive tent stakes into asphalt. Like other party tent styles, they're easy to clean and maintain. And their status as commercial grade tents developed for exhausting party rental work means they're durable as heck, too.
Of course, their best value is their versatility. When this pandemic has finally subsided and American life has returned to normal, your new frame tent will find a second life for your organization and continue proving its worth for years to come.
You can use your frame tent as a base of operations at a fundraising event. Set up a water station for runners at a local marathon. In an emergency, return it to your parking lot to handle triage and patient overflow. The options are limited only by your imagination.
Do Cars Need to Pass Into the Tent?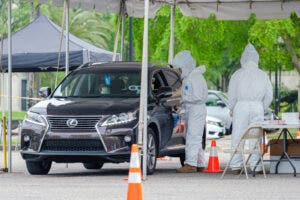 Some drive thru COVID testing sites don't ask drivers to enter tents. Instead, they ask patients to pull up alongside the tent. The tent's role is to protect employees from the wind, the weather, and the sun. Of course, this means patients are relying entirely on their vehicles for that protection, and their interactions with your staff may expose them to the elements while their window is down.
This method is more frustrating for patients, and may be uncomfortable if there's a longer wait for processing. But if your urgent care walk-in clinic is tightly pressed for funding, this may be a reasonable solution.
If vehicles are merely pulling up alongside your tent, the tent's size rightly doesn't matter. And that means easy to use pop up tents may be an even better solution than frame tents.
Pop up tents are designed to be small, lightweight, and easy to use. one or two people can set one up in a few minutes. They're extremely popular at trade shows for this very reason. And when coupled with some sidewalls, pop up tents are a great option for side-of-the-car testing services.
The only style of tent we wouldn't recommend would be pole tents. Pole tents need to be anchored on grass. You can drive tent stakes into asphalt, but that requires a tent stake driver and asphalt plugs. Guy ropes run from the pole tent to the tent stakes, which limits exterior space around the tent and makes it difficult, if not impossible, for vehicles to snugly pull up to the side of the tent.
The Medical Tent Checklist
Thankfully, adapting frame tents as medical tents doesn't take much effort. Out of the box, a new frame tent just needs a few added components to become perfectly suited to work as a drive thru COVID testing tent.
Here's what you're going to need:
The Ideal Medical Tent for Drive Thru COVID Testing is Just a Phone Call Away!
Medical tents protect your staff and your patients from the elements. They keep traffic flowing smoothly. They reduce wind exposure and help maintain the integrity of your testing. And the staff at your urgent care center or walk-in clinic will continue finding uses for these tents long after the COVID vaccine is widespread and American life has returned to normal.
Call Tent and Table today at 1-716-832-8368 and we'll help you find everything you need to create cost effective, space conscious, durable, and reliable drive thru COVID testing medical tents. And if you have any questions whatsoever about our tents and other equipment, we're always more than happy to help however we can.