Saturday, September 19th is International Talk Like a Pirate Day!
Here's a question for you: which is a pirate's favorite letter of the alphabet? Most of you said "R" (or arrrrrrrrrrrgh), but actually, a pirate's first love is always the C. Do you sea what we did there?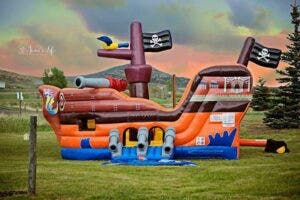 Now that the marketing team had their fun, let's move on. Saturday, September 19th is International Talk Like a Pirate Day. The only day of the year where you can call a coworker a "scurvy dog" and not get a phone call from HR. And the staff at Tent and Table plans on celebrating heartily, donning their eye patches and plastic shoulder parrots and shivering their timbers … whatever the heck that means.
Due to shipping times, it's probably too late to dig your hooks into pirate themed party equipment on time for Talk Like a Pirate Day. And as a general rule, you should try to avoid sticking hooks into party tents and commercial inflatables anyway. But you'd be hard pressed to come up with excuses not to add some swashbuckling maritime equipment to your future rental bookings or private backyard parties. Because come on … who doesn't love pirates?
TNT has an awesome treasure trove of pirate and aquatic themed products so fun even landlubbers will sing a sea shanty o'er 'em. And if you happen to catch this article before International Talk Like a Pirate Day, you'll even find some of these products on sale this weekend. So avast, furl ye sails and drop yer anchor and check out these fun pirate and nautical products from Tent and Table!
Can we safely get away with calling this one of our "flagship" bounce houses? It's certainly one of our coolest looking products, and undeniably a staff favorite. The Deluxe Pirate Ship is a commercial bounce house with a slide built into it. If you're planning on hosting pirate themed outdoor parties, the Deluxe Pirate Ship is an absolute must have item.
[product ids="2433"]
Under the Sea Playland Bounce House
Send kids on an enchanting journey beneath the waves in our Under the Sea Playland bounce house. This fun aquatic bouncer lets kids bounce among sea creatures and explore the depths of the sea without needing a wetsuit.
[product ids="2434"]
Looking to add another fun pirate themed bouncer to the lineup? Consider picking up a tropical modular bounce house, and getting a pirate modular panel to mount onto it. This bounce house could serve as a sort of beach area within your inflatable park. Best of all, you can use other modular panels with the tropical bounce house and change its overall theme in minutes.
[product ids="2068,2601"]
Any great pirate party should offer partygoers a chance to get drenched. And a large 22' inflatable water slide will certainly get the job done. Our 22' Red Marble Tropical Water Slide is one of our most thrilling commercial inflatables and provides kids a great way to cool off while enjoying all the other bouncers in our nautical lineup.
[product ids="4128"]
Sealed Air Games
Rounding out our exciting list of pirate items are a couple of sealed air games. The Shark Bite game and the Mermaid Treasure game allow partygoers a chance to rest their legs from all the bouncing, while playing fun tossing games. And like the tropical bounce house we mentioned earlier, our sealed air games are modular, with countless themes to choose from. Just pick the panels you want to add to your inventory, swap them out, and you're ready to go!
[product ids="4745,4741"]