The Dangers of Careless Space Heater Usage
A modern party tent heater is pretty simple to operate. They're designed to be user friendly and heat a relatively large space quickly, with the sort of efficiency we've all come to expect from commercial grade equipment. But are tent heaters safe? Can we trust and rely on them? Or do they pose a serious fire risk?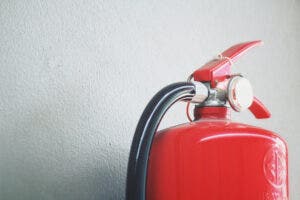 We've all seen the horror stories on the news about house fires started by space heaters. According to the NFPA, space heaters were involved in 43 percent of heating-related house fires and 85 percent of home heating deaths. Space heaters were found in approximately 50,000 house fires per year, too.
Those are some pretty terrifying statistics … until you realize the space heaters themselves were rarely the cause of the fires. In the vast majority of these fires, consumers failed to keep their space heaters clean, and often used them too close to something combustible, like bedding or window curtains.
The truth is, space heaters aren't really dangerous if you follow their safety instructions. Don't leave them running overnight or unattended. Be sure to keep them a safe distance from anything flammable. Clean them regularly. And did we mention you can't leave them unattended or in operation while you're sleeping? Because that one is worth mentioning five or six hundred times (let alone twice) in and of itself.
What About Party Tent Heaters? Are Tent Heaters Safe?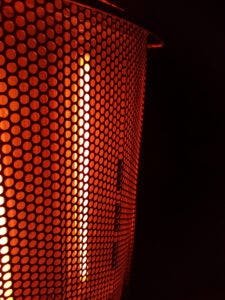 Party tent heaters are safe, so long as they're used correctly and safety guidelines are followed. Modern units are designed for extreme energy efficiency and whisper quiet operation, with all manner of safety features built in like oxygen depletion sensors and pilot kill switches.
We can't speak for the tents made by any of our competitors, but our party tents,tent sidewalls, and tarps at Tent and Table are all crafted from flame resistant vinyl. Customers use our party tent heaters and canopy tents daily without issue.
So long as you're being safe and following the manufacturer's safety guidelines to the letter, the risk of a fire breaking out is infinitesimal. And if you're monitoring the heater as you're supposed to, you can extinguish that unlikely fire before it does too much damage.
General Safety Guidelines for Party Tent Heaters
So, are tent heaters safe? Yes, as long as their use is taken seriously and their safety guidelines are followed. Consult the documentation that shipped with your party tent heater to see what the manufacturer recommends for safety.
When using party tent heaters, always try to follow these guidelines. And if you have any questions, please give us a call at 1-716-832-8368 or leave a comment below and we'll be happy to find an answer for you!
Party tent heaters should not be used while sleeping

Never leave your party tent heaters unattended

Ensure the tent has adequate ventilation; avoid using your tent heater inside a party tent with no source of fresh air

Keep fire extinguishers in easily-accessible locations near the party tent heater and the tent itself, just in case

Keep tent heaters dust-free and clear of debris

Avoid setting up your heater near combustible items; avoid stacks of dry leaves, table cloths, party chair covers, loose temporary carpeting, etc.

Don't store fuel for your tent heaters within the vicinity of your heater, or inside the tent

Protect the unit's air intakes from becoming obstructed.

If you suspect a possible fuel leak, clear the area of people. Only attempt to stop the party tent heater if it's safe to approach it.